Corendon opens third Mondi restaurant in Amsterdam
Badhoevedorp, 7 February 2023 – Restaurant Mondi is expanding and opening a third business in Amsterdam. In addition to the two locations in Amsterdam Zuid and Badhoevedorp, Amsterdam New West is now going to be introduced to Mondi. In the Corendon City Hotel, the former Cor&Don's restaurant has been transformed into a colourful space with specific features such as a black and white floor, exotic plants and the bar as an eye-catcher with gold-coloured tiles. Visitors here enjoy Caribbean shared fine dining seven nights a week and entertainment such as live performances by June Juliet, uplifting beats by Chef Mondi and Caribbean Nights, among others.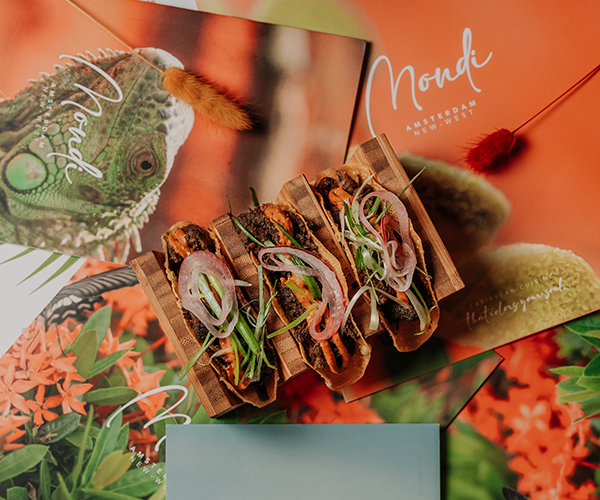 At the College Hotel, restaurant Mondi Amsterdam South is already a household name. This place is known for chef Justin Niessen's delicious Caribbean dishes and exotic cocktails. After the second establishment in Skybar 747 in Badhoevedorp located on the top floor of the Corendon Village hotel, now Mondi Amsterdam New West is the third establishment of this brand to open its doors.
Mariska Nunes, Managing Director of Corendon Hotels & Resorts, says: "I am super proud that we are expanding the Mondi brand and I can share my passion for the Caribbean and especially Curaçao with even more people. Now Amsterdam New West can also experience Caribbean dining."
Lots of live entertainment
Besides visitors enjoying delicious dishes, there is also live entertainment at Mondi Amsterdam New West. Every Monday, there is Chef Mondi. One of Mondi's chefs can not only cook delicious food but also stands his ground behind the DJ booth. He treats visitors to tropical beats. Every Thursday from March, there is live music led by singer, pianist and entertainer Juni Juliet. On Fridays and Saturdays, resident DJs will provide live performances. And the famous Caribbean Nights will not be missing in New West either.
Mondi across borders
In 2023, the Mondi brand will expand on the island of Curaçao, opening its fourth and fifth restaurants. The fourth restaurant will open at the Livingstone Jan Thiel resort. At Corendon's newest hotel, which will open its doors at the end of the year, the first beach club will appear.
Website